News
22.01.2015
Reprogramming electronic actuator memory now possible with APD-1 Programmer
30.11.2013
ATD-1 set inculdes now PS-1, PS-2, PS-3 and PS-4 cables for all posistion sensors on Garrett, BorgWarner, IHI and Mitusbishi vacuum actuators. There is also a new cable BW-2 for Sonceboz (BrogWarner) electronic actuators used on Land Rover and Jaguar turbochargers.
24.04.2013
We are happy to introduce new cable for IHI actuators. The new cable and update for ATD-1 allows you to test all the latest Mercedes electronic actuators used on Vito, Sprinter, C-class, E-class and many more!
20.08.2012
New
GT-2 cable
together with new
software update
now support around 100 different Garrett's electronic actuators! Full list of supported actuators is
here
.
20.02.2012
The list of supported electronic actuators has been updated. We have added 18 new Garrett actuator gearbox numers.
To see full list click
here
.
07.02.2012
The largest Polish industrial portal for garages MotoFocus.pl published an article about Tester ATD-1.
The article is avaliable in Polish
here
.
New software update and 5 new cables for ATD-1!
New software and cables are available now! In the update we offer 5 new signal cables for ATD-1. There are four cables
PS-1, PS-2, PS-3
and
PS-4
for position sensors and also one
BW-2
cable for Sonceboz electronic actuators. This is the bigges update yet!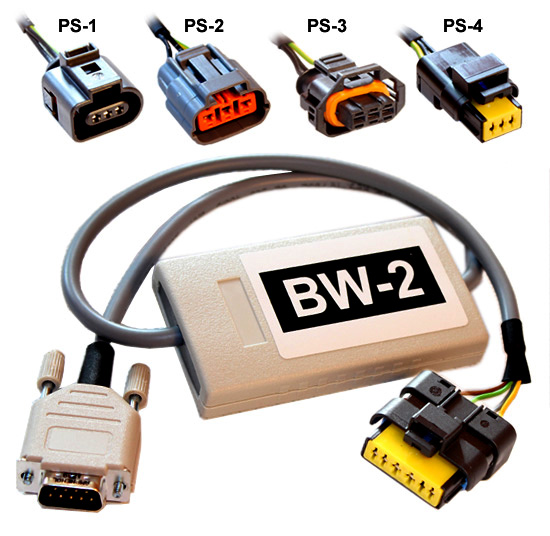 PS-1, PS-2, PS-3
and
PS-4 signal cables
are used to test vacuum actuators with electronic position sensor. With the new update you can check if the signal from the position sensor that is sent to ECU works well with the vacuum actuator. Full set of four new cables allows you to test all actuators on Garrett, BorgWarner KKK, IHI and Mitsubishi that has got position sensor mounted on the top of the actuator. This type of actuators are used by Audi, Volkswagen, Peugeot, Citroen, Ford, Fiat, Alfa Romeo and others.
BW-2 signal cable
supports all BorgWarner Sonceboz electronic actuators used on Land Rover and Jaguar (e.g. Renge Rover Sport 3.6 V8 twin turbo, Land Rover Defender 2.7, Jaguar Twin Turbo and others). Sonceboz actuators are known as very problematic. They are not easy to set after reconditioning the turbo.
With the new udpdate you can set and adjust every type of Sonceboz actuator on the turbo. We have made inteligent adjusting system that will eliminate any problems that you may have with proper setting the actuator with VGT nozzle. The arm of the Sonceboz actuator is different to other actuators and the right setting is critical. ATD-1 has got full list of turbocharger part numbers that uses Sonceboz actuator. All you need to do is choose the right turbo code from the list and the machine will give you proper adjusting system for the actuator. With new BW-2 cable you will eliminate problem with opposite arm position, wrong operation range and uncontrollable actuator shut down. Using ATD-1 you can be 100% sure that the actuator is set properly with VGT nozzle and all the operation ranges are right for the particular turbo code. Our professional Technical Support team can answer any questions you may have about any electronic actuator that is supported by ATD-1.
30.11.2013