News
22.01.2015
Reprogramming electronic actuator memory now possible with APD-1 Programmer
30.11.2013
ATD-1 set inculdes now PS-1, PS-2, PS-3 and PS-4 cables for all posistion sensors on Garrett, BorgWarner, IHI and Mitusbishi vacuum actuators. There is also a new cable BW-2 for Sonceboz (BrogWarner) electronic actuators used on Land Rover and Jaguar turbochargers.
24.04.2013
We are happy to introduce new cable for IHI actuators. The new cable and update for ATD-1 allows you to test all the latest Mercedes electronic actuators used on Vito, Sprinter, C-class, E-class and many more!
20.08.2012
New
GT-2 cable
together with new
software update
now support around 100 different Garrett's electronic actuators! Full list of supported actuators is
here
.
20.02.2012
The list of supported electronic actuators has been updated. We have added 18 new Garrett actuator gearbox numers.
To see full list click
here
.
07.02.2012
The largest Polish industrial portal for garages MotoFocus.pl published an article about Tester ATD-1.
The article is avaliable in Polish
here
.
Turbocharger Electronic Actuator Programmer APD-1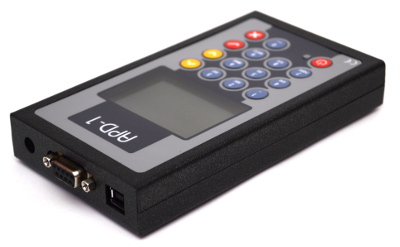 APD-1 capabilities
APD-1 is professional device designed for reprogramming Hella electronic actuators used in Garrett turbochargers. APD-1 can read memory from electronic actuator and save it to the programmer for future use. APD-1 can rewrite memory in electronic actuators and also allows to modify operation range of the actuator arm, that includes changing open and close positions of the working angle. The programmer works with all Hella (Garrrett) electronic actuators with following part numbers: 712120, 730314, 763797 and 781751.
APD-1 features
reading electronic actuator memory and saving it in the APD-1 memory
reprogramming electronic actuator memory
identification Hella electronic actuators and verification which gearbox number it is intended to use with (i.e. G-149)
reading original working angle of the actuator arm
custom modifying working angle (shortening, widening and moving operation range of the actuator arm)
22.01.2015